Cadernos WGT: Comente o seguinte texto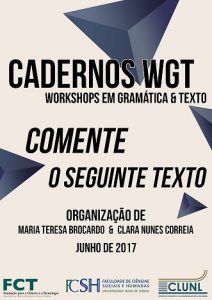 Brocardo, Maria Teresa and Correia, Clara Nunes, orgs. (2017). Cadernos WGT: Comente o seguinte texto. Lisboa: NOVA FCSH.
Presentation
"O 16.º WGT (16 de dezembro de 2016) lançou o tema Comente o seguinte texto*, acolhendo propostas diferenciadas no domínios da gramática & texto, em torno da atividade comentário. Este caderno reúne os textos resultantes dessas apresentações, que incidem sobre comentários (de textos descritivos e/ou teóricos, de dados empíricos…) ou que se constituem eles próprios como comentários.
Ao lermos estes textos e olhando para as formas, para as construções e para os textos que serviram de motivação para este debate, encontramos uma linha – não necessariamente direita – que nos mostra de que forma a investigação dos autores que integram este volume pode ser relevante para a resposta à pergunta 'o que é um comentário?'
Enquanto organizadoras deste volume dos Cadernos G&T, estamos em crer que cada um destes textos permite, ainda, desencadear uma discussão continuada, geradora de outros temas que venham a constituir futuros Workshops de G&T, que se tornarão Cadernos G&T…"
Maria Teresa Brocardo and Clara Nunes Correia
* Do texto de Eduarda Dionísio (Lisboa: Plátano, 1972).
Articles
O comentário como exercício de divulgação linguística
Ana Sousa Martins
Comente o seguinte texto: leituras da enunciação em mise en abyme
Clara Nunes Correia
O plano de texto do comentário linguístico: uma proposta de análise
Rute Rosa
Comentários à Gramática Histórica da Língua Portuguesa de Manuel Said Ali
Maria do Céu Caetano
Comente o seguinte texto-fonte
Maria Teresa Brocardo
Comentários polémicos e discriminatórios na Internet: estudos de caso
Rosalice Pinto & Isabelle Simões Marques
Avaliação negativa no espaço Web: o caso de comentários online a notícias
Milana Morozova
Comentário na imprensa em linha: estudo de uma construção linguística que comenta contrapondo
Helena Valentim & Matilde Gonçalves
Comentar revisões e rever comentários: estratégias de (co)produção textual em contexto profissional
Marta Fidalgo