Online resources
---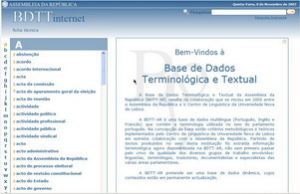 The Textual and Terminological Database for the Portuguese Parliament [BDTT-AR] is a multilingual database (Portuguese, English and French) that contains the terminology used within the Portuguese Parliament. BDTT-AR is conceived as a dynamic database, whose containts are permanently being updated.
---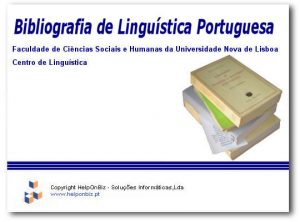 The BILP – Bibliography of Portuguese Linguistics database – is a resource that allows free access to a large number of records classified according to various types of information (e.g. chronological scope, linguistic disciplines and Portuguese varieties studied), being constantly enlarged and improved.
---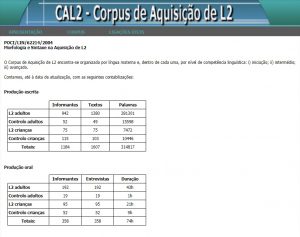 The L2 Acquisition Corpus compiles the spontaneous production data (written and oral) collected under the Morphology and Syntax in L2 Acquisition project.
---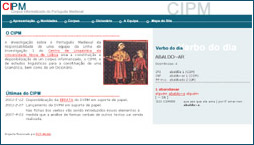 At its present stage, the Digital Corpus of Medieval Portuguese (Corpus Informatizado do Português Medieval – CIPM) consists of texts dating from the 12th to the 16th centuries, and it includes texts in prose, both literary texts (hagiographic, historical and travel narratives, doctrinal prose, philosophical treatises, texts of a moralistic and religious nature) and non-literary texts (private notarial documents, royal documents, wills, charters, i.e., primarily legal documents).
---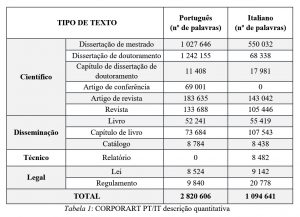 CORPORART – PT/IT is a bilingual comparable corpus of the Public Art domain. It comprises sub corpora for contemporary European Portuguese and Italian, from 2000 to 2018, covering text types and subdomains representative of the production of specialized texts in this highly interdisciplinary domain.
---
Portuguese Literature Corpus for Distant Reading is a literary corpus of non canonical novels by Portuguese authors, from the period 1840-1920.
This Portuguese colection within the European Literary Text Collection (ELTeC) was developed through the Portuguese Literature Corpus for Distant Reading project.
---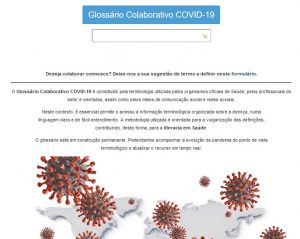 The COVID-19 Collaborative Glossary comprises the terminology used by official Healthcare agencies, healthcare professionals and scientists, as well as the media and social media.
---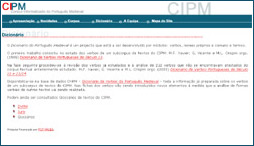 The Dictionary of Medieval Portuguese Verbs (Dicionário de Verbos do Português Medieval – DVPM) constitutes one of the stages in the study of the workings of Portuguese grammar, which is being conducted in modules, namely: verbs, proper nouns, common nouns and terms. At its present stage, the online DVPM makes available all the information that has already been prepared on the verbs found in a subcorpus of CIPM texts from the 12th to the 13th-14th centuries. The linguistic treatment of the verbs found in the dictionary is based on the notion that each lexical entry must include information relating to graphic form(s), inflectional paradigm, semantic properties, syntactic properties and quotations.

---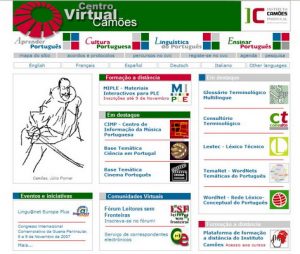 By request of Instituto Camões, the Research Group "Lexicology, Lexicography and Terminology" of the Linguistics Research Centre of NOVA University Lisbon (CLUNL) has conceived and created multilingual terminological glossaries (Portuguese, English and French) associated to textual databases in the domains of Agronomy, Health Sciences, Law and Economics to be made available online by Instituto Camões.
---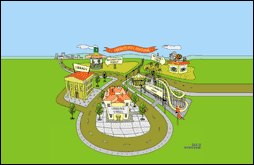 Oneness aims at promoting the learning of five of the less widely taught languages in Europe – Lithuanian, Estonian, Finnish, Polish and Portuguese –, as well as encouraging an interest in the cultures of the countries where these languages are spoken. It seeks to develop online language courses for each of these five languages and create teaching materials, designed to help adult learners develop basic communicative skills in the target language. A Portuguese course for beginners is available online.
---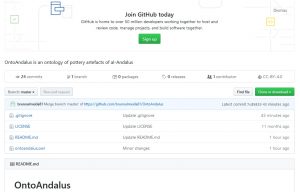 OntoAndalus is an ontology of pottery artefacts of al-Andalus. The purpose of OntoAndalus is to further knowledge in the domain and to facilitate the development of a multilingual terminological resource based on formal descriptions or definitions of concepts and other units of knowledge.
---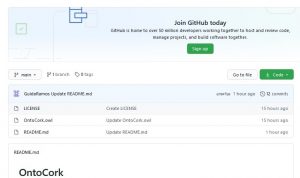 OntoCork is a micro domain-ontology of cork stoppers. The purpose of this domain-ontology is to organise cork stoppers – concepts and terms – in a systematic way.
The aim is to build an e-dictionary, designed as a multilingual and multimodal product, where linguistic and conceptual resources are paired to facilitate knowledge acquisition.
OntoCork is being developed in OWL. The formal definitions are inferred from CorkCorpus – a specialised corpus built from scratch.
---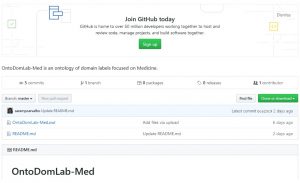 OntoDomLab-Med is an ontology of domain labels focused on Medicine. Its purpose is to provide a solid conceptual foundation that facilitates interoperability with TEI Lex-0, as well as improve: i) the consistency of domain labelling assignment and ii) the efficiency in what concerns information retrieval.
---

Scrinium gathers information on Portuguese translations of mostly secular texts written in Latin during the Middle Ages and early Renaissance.
---


Termes de base du diagnostic orthophonique is a resource consisting of a list of 45 lexical units considered fundamental for the diagnosis of speech and language pathologies, constituting a non-exhaustive extract of the vocabulary in use in 2020.