Estudos Linguísticos / Linguistic Studies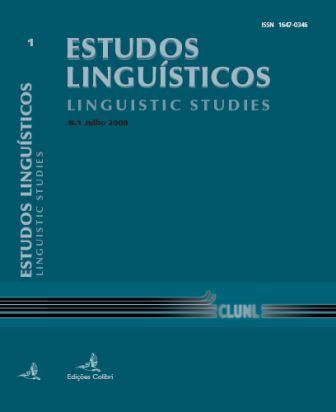 ISSN 1647-0346


Executive Board:
Clara Nunes Correia
Maria Antónia Coutinho

Editorial Board:
Alexandra Fiéis
Helena Topa Valentim
Maria do Céu Caetano
Rute Costa

Permanent Scientific Committee:
Ângela Dionisio (UFPE)
Cristina Figueiredo (Univ. Santa Catarina)
Ieda Alves (Univ. São Paulo)
Ivo Castro (FLUL)
José Luís Rodríguez (Univ. Santiago de Compostela)
Neusa Salim (UFJF)
Soledad Varela Ortega (Univ. Autónoma de Madrid)
Victoria Vasquez (Univ. Santiago de Compostela)
Violeta Demonte (Univ. Autonóma de Madrid)

Reading Committee: to assign for each number according to the specificity of editorial planning.
Contact: revling@fcsh.unl.pt