GRATO 2019
---
6th International Conference on Grammar and Text
Lisbon, November 14-16, 2019
School of Social Sciences and Humanities of NOVA University Lisbon (NOVA FCSH)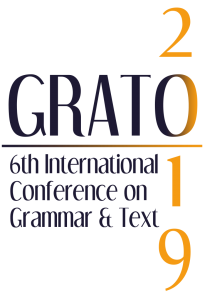 GRATO – International Conference on Grammar and Text – is a biennial conference that brings together linguists from diverse theoretical backgrounds to discuss topics on morphology, semantics, text theory and discourse analysis, aiming to connect and thus mutually enhance grammatical and text / discourse approaches to language, from synchronic and diachronic perspectives.
The Grammar & Text Group of CLUNL invites to the submission of abstracts for oral presentation untill April 30, 2019. Download the call here.
Invited Speakers
Jean-Paul Bronckart | Université de Genève
https://www.unige.ch/fapse/grafe/associatmbrs/bronckartjpcv/
Hana Filip | Heinrich-Heine-Universität Düsseldorf
https://user.phil-fak.uni-duesseldorf.de/~filip/
See the full Program and the Book of Abstracts.
Registration
Please, fill in the form available here and send it with the transfer confirmation attached to the email address: grato@fcsh.unl.pt
Payment
Payments should be made through PayPal to the account dgfc@fcsh.unl.pt specifying "GRATO 2019" in the transfer details.
Scientific Committee
Alexandra Guedes Pinto | Universidade do Porto
Ana Madeira | NOVA FCSH
Antónia Coutinho | NOVA FCSH
Augusto Soares da Silva | Universidade Católica Portuguesa
Célia Lopes | Universidade Federal do Rio de Janeiro
Clara Nunes Correia | NOVA FCSH
Ecaterina Bulea-Bronckart | Université de Genève
Florencia Miranda | Universidad Nacional de Rosario
Glaís Sales Cordeiro | Université de Genève
Graça Rio-Torto | Universidade de Coimbra
Hana Filip | Heinrich-Heine-University Düsseldorf
Helena Topa Valentim | NOVA FCSH
Isabel Margarida Duarte | Universidade do Porto
Jasmina Markič | Universidade de Ljubljana
Jean-Paul Bronckart | Université de Genève
Joana Batalha | NOVA FCSH
Joana Vieira Santos | Universidade de Coimbra
Joaquim Dolz-Mestre | Université de Genève
José António Souto Cabo | Universidade de Santiago de Compostela
Luísa Álvares Pereira | Universidade de Aveiro
Maria Aldina Marques | Universidade do Minho
Martin Becker | Universität zu Köln
Paulo Nunes da Silva | Universidade Aberta
Rui Ramos | Universidade do Minho
Sónia Valente Rodrigues | Universidade do Porto
Teresa Oliveira | Instituto Politécnico de Portalegre
Organizing Committee
Grammar & Text Group of CLUNL
https://clunl.fcsh.unl.pt/en/groups_clunl/gramatica-texto/
Maria Teresa Brocardo | NOVA FCSH | CLUNL
Maria do Céu Caetano| NOVA FCSH | CLUNL
Carla Teixeira | CLUNL
Mafalda Frade | NOVA FCSH | CLUNL
Accomodation
Hotel 3K Europa ****
Av. da República, 93, 1050-190 Lisboa
http://www.hotel3keuropa.pt/
Radisson Blu Hotel Lisbon ****
Av. Marechal Craveiro Lopes, 390, 1749-009 Lisboa
http://www.radissonblu.com/hotel-lisbon
VIP Executive Entrecampos Hotel & Conference ****
Av.5 de Outubro, 295, 1600-035 Lisboa
https://www.viphotels.com/en/Hotels/VIP-Executive-Entrecampos/About-Hotel.aspx
VIP Executive Zurique ***
Rua Ivone Silva, 18, 1050-124 Lisboa
https://www.viphotels.com/en/Hotels/VIP-Executive-Zurique/Gallery.aspx
SANA Metropolitan Hotel ***
Rua Soeiro Pereira Gomes, Parcela 2, 1600-198 Lisboa
https://metropolitan.sanahotels.com/en
America Diamonds Hotel ***
Rua Tomás Ribeiro, 47, 1050-226 Lisboa
https://www.americadiamondshotel.com/home
Hotel Dom Carlos Park ***
Avenida Duque de Loulé, 121, 1050-089 Lisboa
https://www.domcarloshoteis.com/
Hotel Ibis Lisboa José Malhoa
Avenida José Malhoa LT H, 1070-158 LISBOA
http://www.ibis.com/pt/hotel-1668-ibis-lisboa-jose-malhoa/index.shtml
Pousada de Juventude Lisboa (Youth Hostels)
Rua Andrade Corvo, 46, 1050-009 Lisboa
https://pousadasjuventude.pt/en
How to get to NOVA FCSH
Metropolitano de Lisboa – Campo Pequeno (Yellow line) / Entrecampos (Yellow line)  /
São Sebastião (Blue line / Red line)
Carris – 716 / 726 / 756
Comboio (CP) – Entrecampos
Contacts
Email address:
grato@fcsh.unl.pt
Address:
Linguistics Research Centre of NOVA University Lisbon
School of Social Sciences and Humanities of NOVA University Lisbon (NOVA FCSH)
Av. de Berna, 26-C, 1069-061, Lisboa (Portugal)