GRATO 2015
---
4th International Conference on Grammar and Text
Lisboa, July 2-4, 2015
School of Social Sciences and Humanities of NOVA University Lisbon (NOVA FCSH)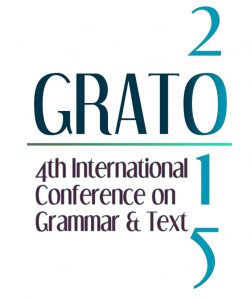 The relationship between grammar and text/speech can be considered as a convergence space. It is therefore possible to start from local linguistic phenomena to better understand the texts/speeches. But it is also conceivable to start from textual/discursive configurations to better understand the functioning of language from different points of view – semantic, pragmatic, morphosyntactic, enunciative – either from a synchronic or diachronic perspective. Both routes can be enhanced in a didactic approach.
The 4th International Conference on Grammar and Text – GRATO 2015 aims to explore this border crossing, as explained in the following thematic axes:
1. From textual/discursive configurations to linguistic forms and constructions;
2. From linguistic forms and constructions to textual/discursive configurations;
3. Didactic perspectives on Grammar and Text.
The working languages of the conference will be Portuguese, English, Spanish and French. 
Plenary Speakers
Bert Cornillie | University of Leuven
A Discourse Traditions approach to Grammaticalization: cultural and discourse-oriented reflections on syntactic change (abstract)
Daniel Cassany | Universitat Pompeu Fabra
La digitalización de la enseñanza de la lectura e la escritura (abstract)
Michèle Monte | University of Toulon
La phrase à prédicat non verbal dans dans différents genres de discours: structure et rôle textuel (abstract)
Scientific Committee
Alexandra Guedes Pinto | Universidade do Porto
Ana Cristina Macário Lopes | Universidade de Coimbra
Ana Madeira | Universidade NOVA de Lisboa (NOVA FCSH) / Centro de Linguística da Universidade NOVA de Lisboa (CLUNL)
Angela Paiva Dionísio | Universidade Federal de Pernambuco
António Moreno | Universidade de Aveiro
Audria Leal | CLUNL
Augusto Soares da Silva | Universidade Católica do Minho
Carla Teixeira | CLUNL
Clara Nunes Correia | NOVA FCSH / CLUNL
Driss Ablali | Université de Lorraine
Ecaterina Bulea | Université de Genève
Egon Rangel | Pontíficia Universidade Católica de São Paulo
Eliane Lousada | Universidade de São Paulo
Eulália Leurquin | Universidade Federal do Ceará
Fátima Silva | Universidade do Porto
Florencia Miranda | Universidad Nacional de Rosario / CLUNL
Inês Cardoso | Camões, Instituto da Cooperação e da Língua / York University
Isabel Margarida Duarte | Universidade do Porto
Isabel Roboredo Seara | Universidade Aberta / CLUNL
Isabelle Marques | Universidade Aberta / CLUNL
Janete Bessa Neves | Pontíficia Universidade Católica do Rio de Janeiro / CLUNL
Janice Helena Chaves Marinho | Universidade Federal de Minas Gerais
Jasmina Markic | Universidade de Ljubljana
Joana Vieira Santos | Universidade de Coimbra
Joaquim Dolz | Université de Genève
José Pinto de Lima | Universidade de Lisboa / CLUNL
Juana Marín Arrese | Universidad Complutense de Madrid
Lionel Dufaye | Université Paris Est-Marne La Vallée
Lucie Gournay | Université Paris-Est Créteil Val de Marne
Luísa Álvares Pereira | Universidade de Aveiro / CLUNL
Maria Lobo | NOVA FCSH / CLUNL
Maria Aldina Marques | Universidade do Minho
Maria do Céu Caetano | NOVA FCSH / CLUNL
Maria da Graça Costa Val | Universidade Federal de Minas Gerais
Maria Teresa Brocardo | NOVA FCSH / CLUNL
Marília Blundi Onofre | Universidade Federal de S. Carlos, São Paulo
Marion Carel | EHESS-Paris
Paulo Nunes da Silva | Universidade Aberta
Rosalice Pinto | CLUNL
Susana Pereira | Escola Superior de Educação de Lisboa / CLUNL
Valdir do Nascimento Flores | Universidade Federal do Rio Grande do Sul
Wander Emediato | Universidade Federal de Minas Gerais
Organizing Committee 
Maria Antónia Coutinho | NOVA FCSH / CLUNL
Helena Valentim | NOVA FCSH / CLUNL
Regina Dell'Isola | Universidade Federal de Minas Gerais / CLUNL
Teresa Oliveira | Instituto Politécnico de Portalegre / CLUNL
Isabelle Simões Marques | Universidade Aberta / CLUNL
Matilde Gonçalves | FCT / CLUNL
Audria Leal | CLUNL
Carla Teixeira | CLUNL
Contacts
For further information, please contact: grato@fcsh.unl.pt
Address:
Centro de Linguística da Universidade NOVA de Lisboa – GRATO 2015
Faculdade de Ciências Sociais e Humanas (NOVA FCSH)
Av. de Berna, 26-C, 1069-061, Lisboa (Portugal)