XIII Forum for Linguistic Sharing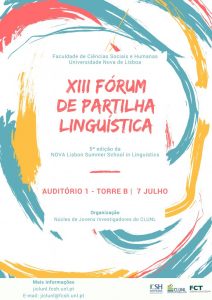 The Young Researchers Group of Linguistics Research Centre of Universidade NOVA de Lisboa is pleased to announce the XIII Forum for Linguistic Sharing, which will take place on the 7th of July 2018, at NOVA School of Social Sciences and Humanities (Lisbon, Portugal).
XIII Forum for Linguistic Sharing is integrated into 4h edition of NOVA CLUNL – Lisbon Summer School in Linguistics and it aims to give the opportunity to young researchers to present and discuss their work in a relaxed and intellectually stimulating environment.
In order to participate in the Forum, please see the submission guidelines here.
We expect to publish the proceedings of the conference in the online Journal NOVAling.
For full information, please take a look at the Young Researchers Group website.