Following the last Workshop on Grammar & Text, CLUNL's Grammar & Text group published a new WGT Working Paper.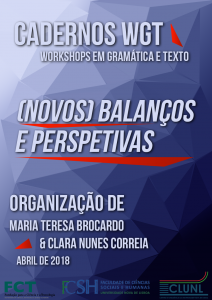 "Este Caderno reúne textos relativos a algumas das comunicações apresentadas no 17.º WGT (Workshop em Gramática & Texto), realizado em 19 de janeiro de 2018. O desafio que desta vez se propôs aos investigadores do Grupo Gramática & Texto do CLUNL foi de apresentarem e discutirem resultados da investigação realizada e / ou de projetos a continuar ou iniciar no horizonte temporal dos últimos / próximos 2/3 anos. Esta publicação pretende assim continuar a dar visibilidade à investigação – realizada, em curso, projetada – dos membros da
equipa do G&T, propiciando o alargamento da discussão para além do âmbito do Workshop."
The editors
Maria Teresa Brocardo & Clara Nunes Correia
The articles are available online.