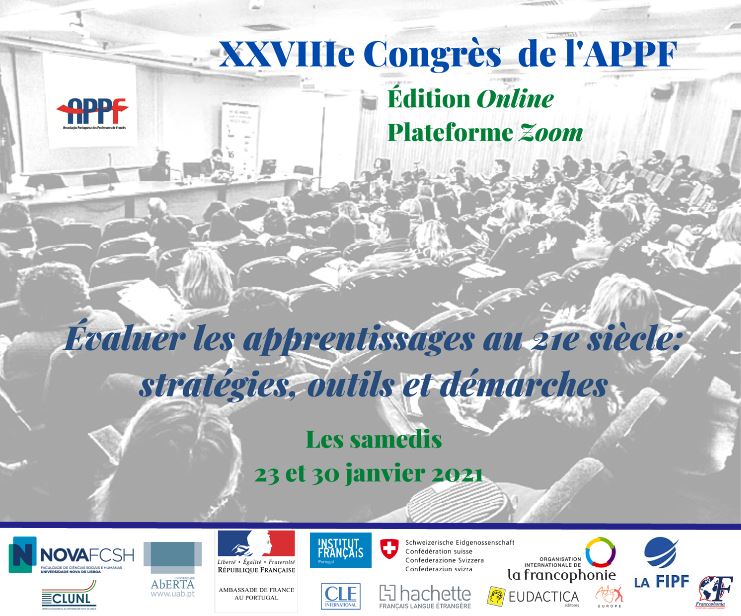 The 28th National Congress of the Portuguese Association of French Teachers (APPF), on «Evaluating learning in the 21st century – strategies, instruments and work proposals», will be held online, on January 23 and 30, 2021.
The aim of this congress is to promote and disseminate new pedagogical practices in the language class, taking into account the new guidelines of the Ministry of Education in Portugal, particularly regarding the issue of evaluation in language teaching/learning.
Confirmed speakers:
Cynthia Eid, Director of École des Formateurs Pédagogie et Innovation – IGS group and vice-president of the Fédération Internationale des Professeurs de Français (FIPF)
Silvia Melo-Pfeifer, Professor at Hamburg University (Germany)
Ariana Cosme e Daniela Ferreira, Professor and Researcher at University of Porto
Halyna Kutasevych, Professor at Nacional University of Yury Fedkovych Chernivtsi (Ukraine).
The congress is organized by APPF, NOVA FCSH, and the Educational and Linguistic Cooperation Service of Embassy of France and Embassy of Switzerland at Portugal, with the support of NOVA CLUNL.
The programme is available here.
The participation is free for the whole community of NOVA FCSH, but the registration is mandatory through this form.
Further information:
https://www.appf.pt/2020/12/18/tema-avaliar-as-aprendizagens-no-seculo-xxi-estrategias-instrumentos-e-propostas-de-trabalho/